The Imago Core Photo Interface
This topic describes how to set up and use the Imago core photo interface. It is divided into:
Setting Up the Imago Interface
Before you can view core photos, you must first set up the link between Leapfrog Geo and the Imago database. To do this, right-click on the Drillholes object and select Add Core Photo Link. In the window that appears, select Imago and click OK. The Imago Settings window will appear. Select whether each core photo will be opened in a separate browser Window or Tab. All other parameters are optional.
Click OK to save the information. The Imago Link button (

) will appear in the toolbar: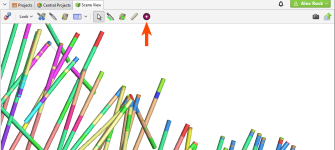 A link will also appear in the project tree as part of the Drillholes object: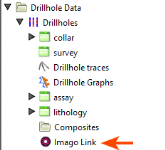 You can edit the link by double-clicking on it.
Using the Imago Interface
To view core photos, click on a drillhole in the scene, then click on the Imago Link button in the window that appears: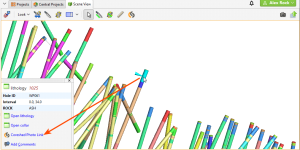 Your browser will be launched and you will be prompted to log in to the Imago database. Remember to allow the browser to save the details so that you will not be prompted to log in each time you wish to view a photo.
The Imago Link button (

) in the toolbar allows you to view core photos in your browser in rapid succession. To do this, first make sure you are already logged into the database. Then click on the Imago Link button (

) to enable the rapid viewing mode. Each time you click on an interval in the scene, the core photo link will open in your browser.
Position your browser window alongside the Leapfrog Geo scene window to view drillhole data in Leapfrog Geo alongside the core photo data.
To disable rapid viewing mode, click on another tool in the toolbar.
Removing the Imago Link
To remove the Imago link, right-click on it in the project tree and select Delete.
Got a question? Visit the Seequent forums or Seequent support