Storing and Accessing Data in the Project Data Room
Each Central project has its own repository of data files related to that project, called the Data Room.
You need to be the Owner or an Editor of a project in order to access the project's Data Room.
The Data Room for each project can be viewed in the Central Portal by clicking on a project, then clicking on the Files tab for that project: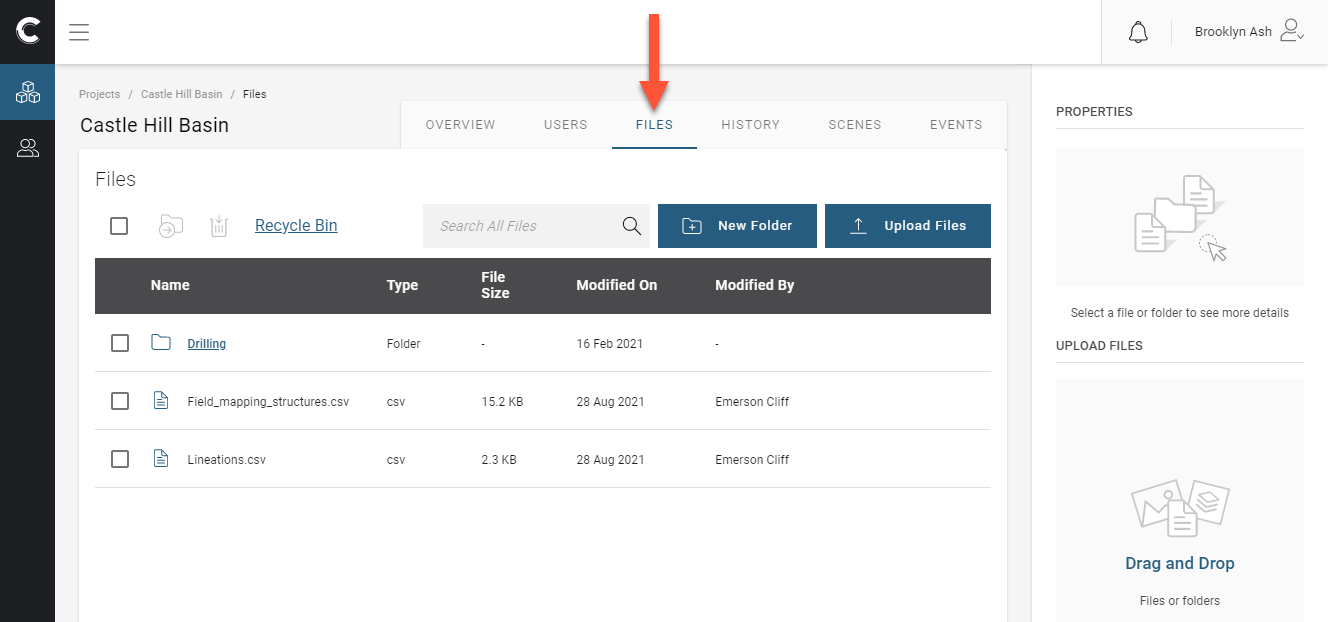 Existing files can be downloaded from the Central Portal and Leapfrog users who have project permissions can import data from those Central projects.
The rest of this topic describes how to use the Central Data Room via the Central Portal. It is divided into:
Uploading Data
You can drag and drop multiple files and folders into the Files tab to upload them to the data room. Here a folder called "Fault Meshes" has been dragged into the Files tab: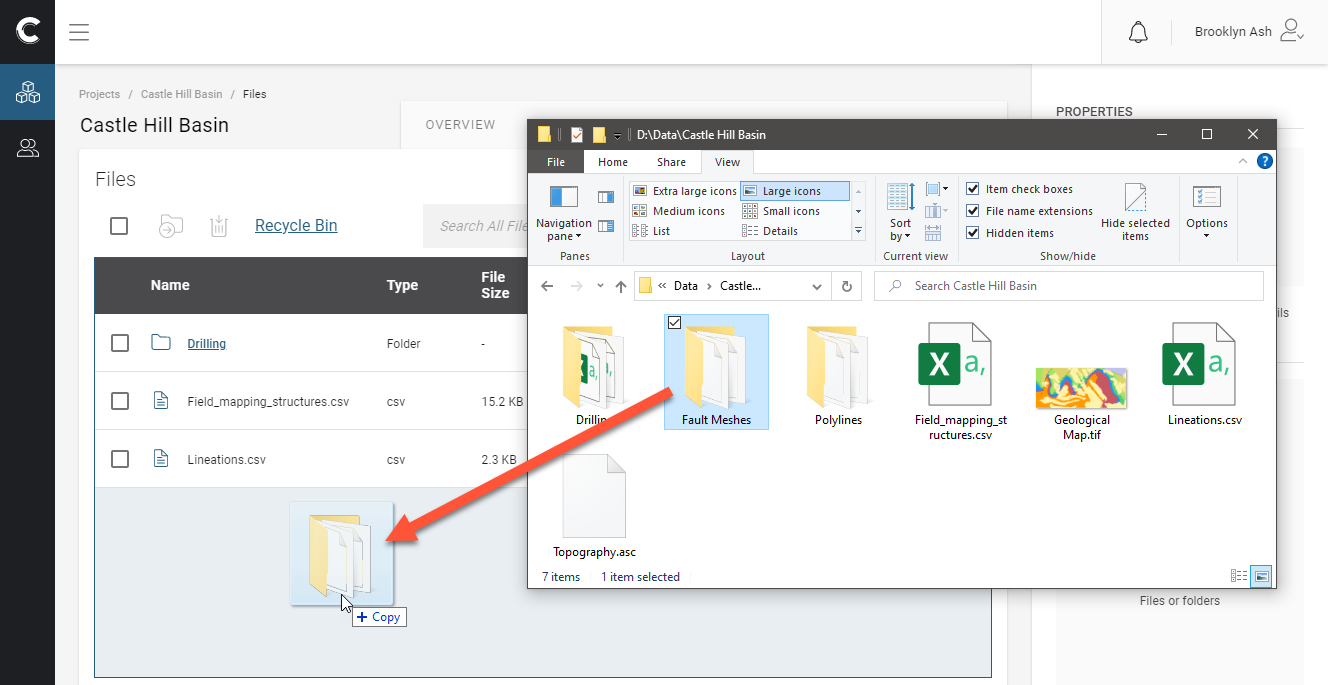 The folder and its contents will be uploaded into the project data room: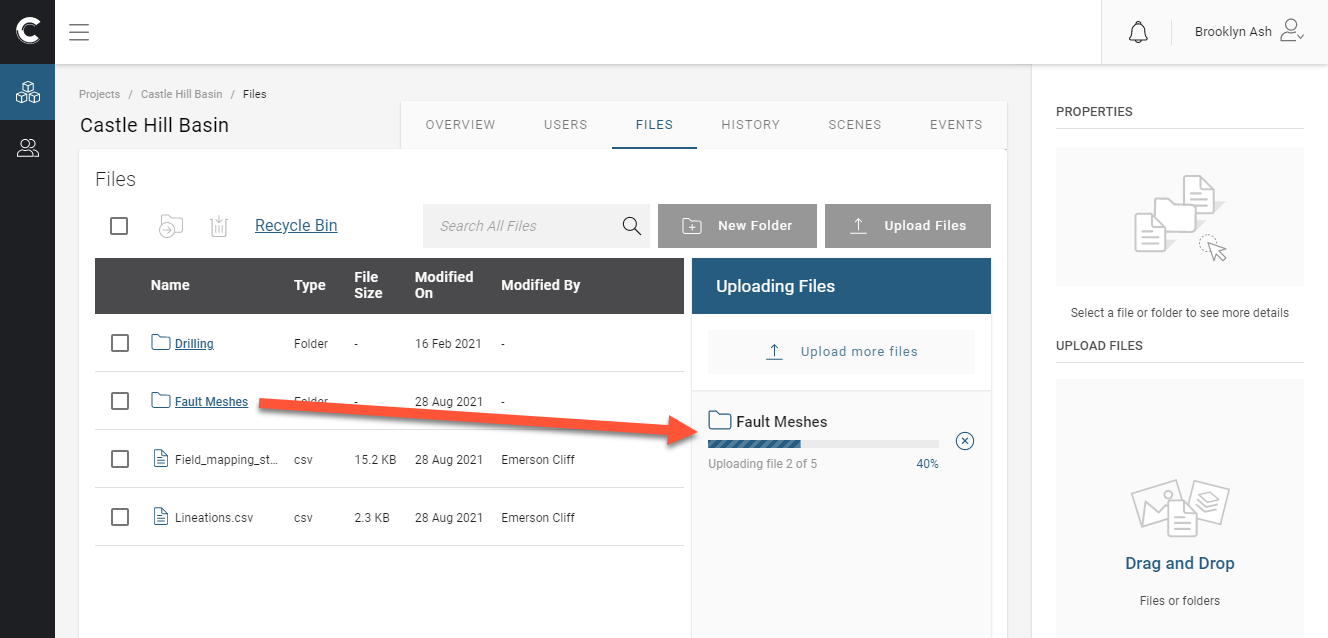 Working with Data Files
Click the overflow button (

) to view more options for a file, including renaming and downloading the file, deleting it and moving it to the recycle bin.
Click on a file to view more information about it, including its version history: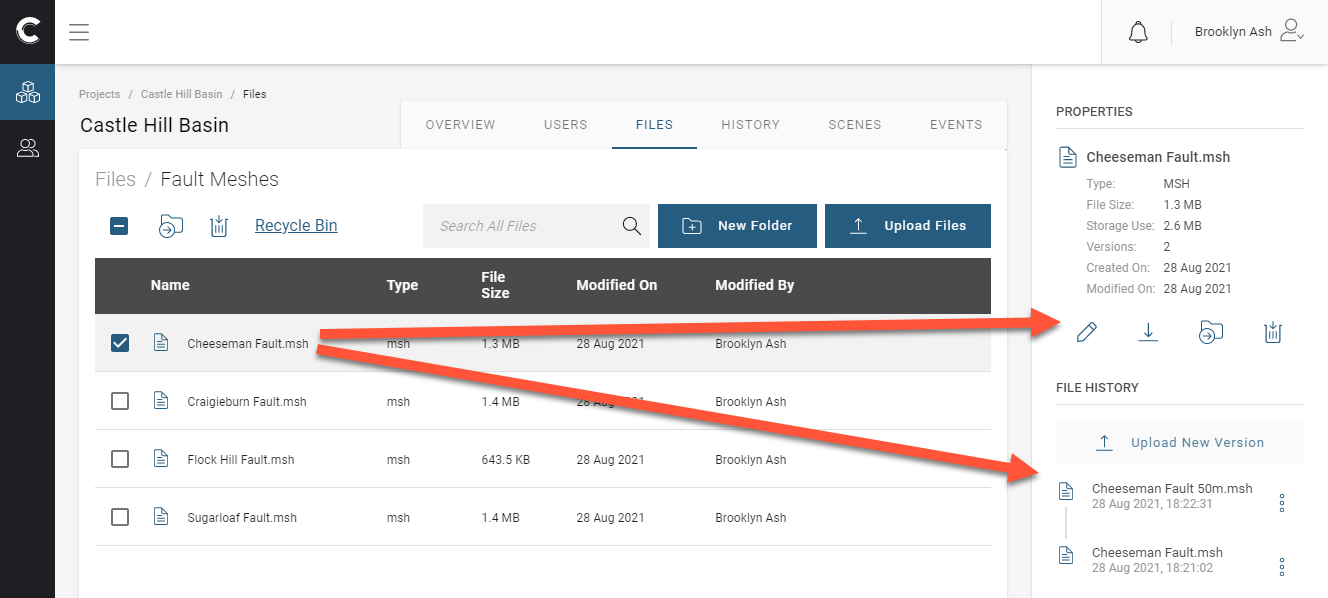 You can:
Rename the file. Click the

Edit

button ().
Download the file. Click the

Download

button (). You can select multiple files and download them all at once, but you cannot download folders.
Move the file. Click the

Move

button () and select where you wish to move it to. You can move multiple files and folders.
Delete the file. Click the

Delete

button (). The file will be moved to the recycle bin, which you can view by clicking the link above the files list.
Upload a new version of the file. Click the button and navigate to the file you wish to upload.
Deleting Files
When you delete a file from the list, it and all its revision are moved to the project recycle bin.
Note that revisions deleted from an individual file's history are not sent to the recycle bin and cannot be recovered.
Accessing the Data Room From Leapfrog
See the Importing Data From Central topic in the Leapfrog Geo 2023.1 help for information on importing data from the Central server into your Leapfrog project.
Accessing the Data Room From Oasis montaj
Geosoft grids or voxels in your Oasis montaj projects that you upload to Central can be viewed in the project's Data Room. Once you have uploaded the data, as described in Signing in to the Central Portal, select the project you're working on and then click Files.
Got a question? Visit the Seequent forums or Seequent support
© 2023 Seequent, The Bentley Subsurface Company
Privacy | Terms of Use