Help and Resources for Seequent Central
Seequent Central helps your geoscience team work better by bringing together data and communications in a shared, version-controlled space where you can discuss your projects in the 3D context of your models.
This brief introduction to Seequent Central and the Central Portal is intended to help you get started if you have received an invitation to a Central server and tell you about the resources available to help you become familiar with working in Central. This introduction is divided into:
Central Portal Introduction
The Central Portal is where you can:
| | |
| --- | --- |
| | Get a high-level view of all the Central projects you've been assigned. |
| | Look at more detailed information about a project, such as its history, who has access to it and what data is associated with the product. A project's dashboard also provides an overview of the conversations going on about the project. |
| | Visualise project data in 3D and discuss it with other team members. |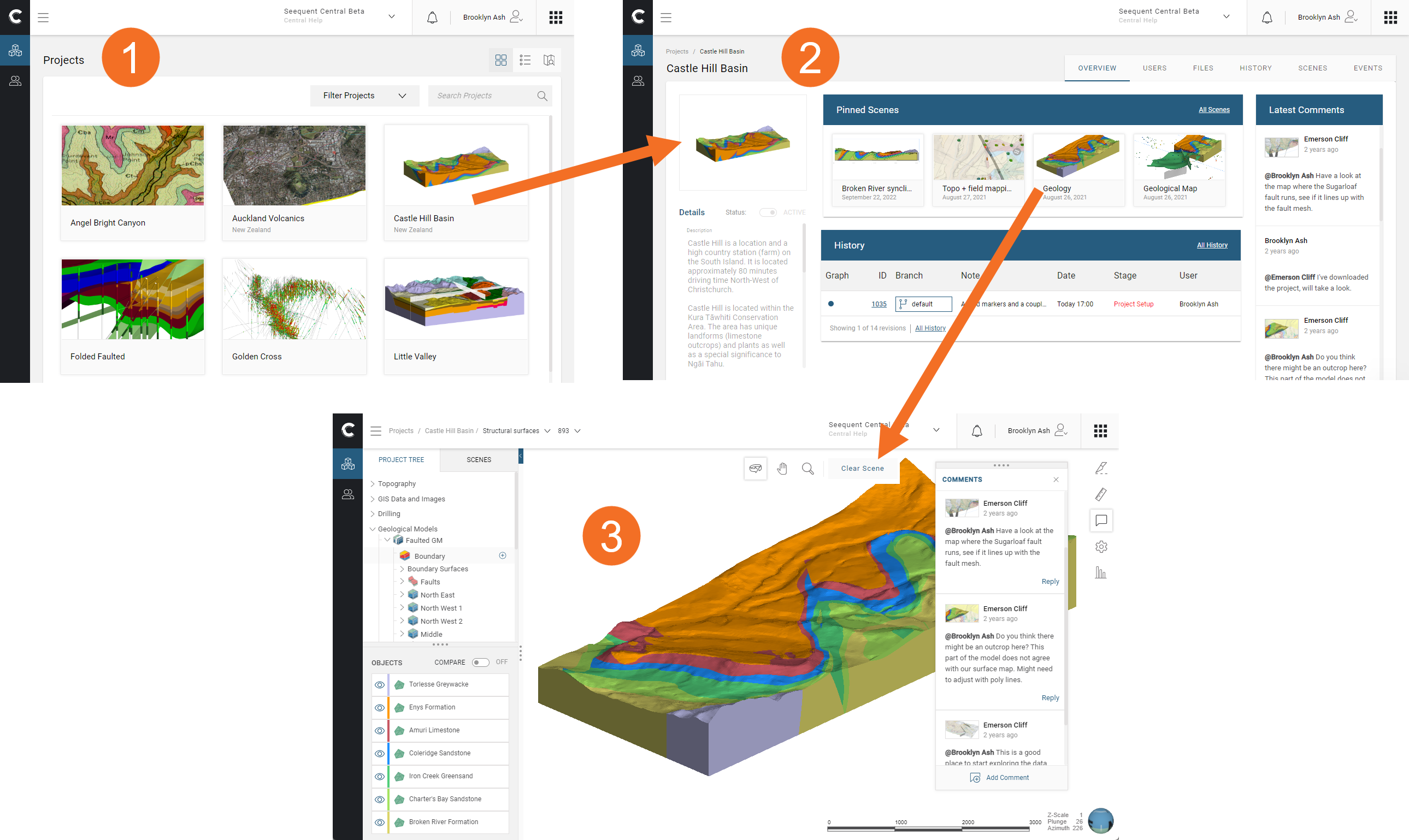 Receiving an Invitation
When you receive an email saying you have been granted access to your organisation's Central server, click the link to open the Central Portal. Follow the prompts to either create a new Seequent ID or sign in using your existing Seequent ID.
The Projects List
Once you have signed in, the list of projects you have been granted access to will be displayed. If you have not yet been assigned any projects, you may have to wait for your Central Admin to assign you some.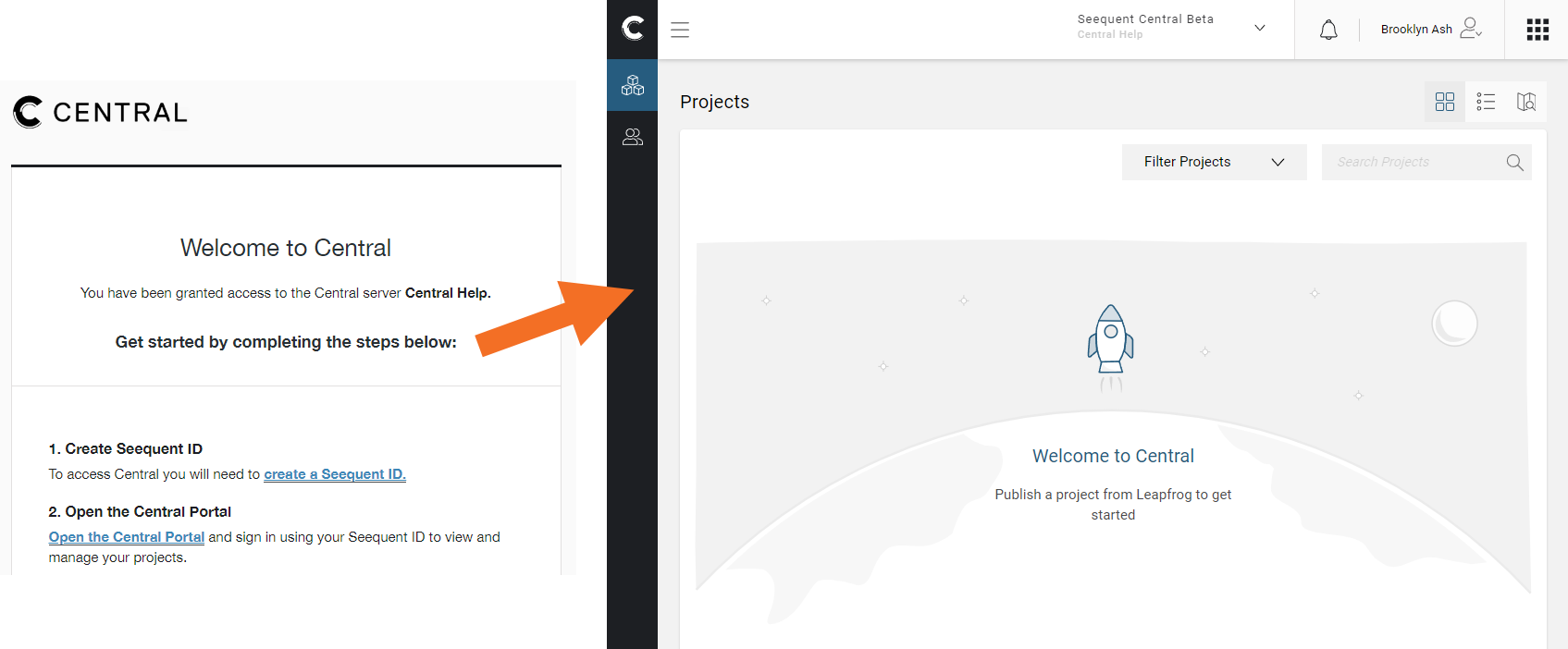 Once you have been assigned some projects, they will appear in the list: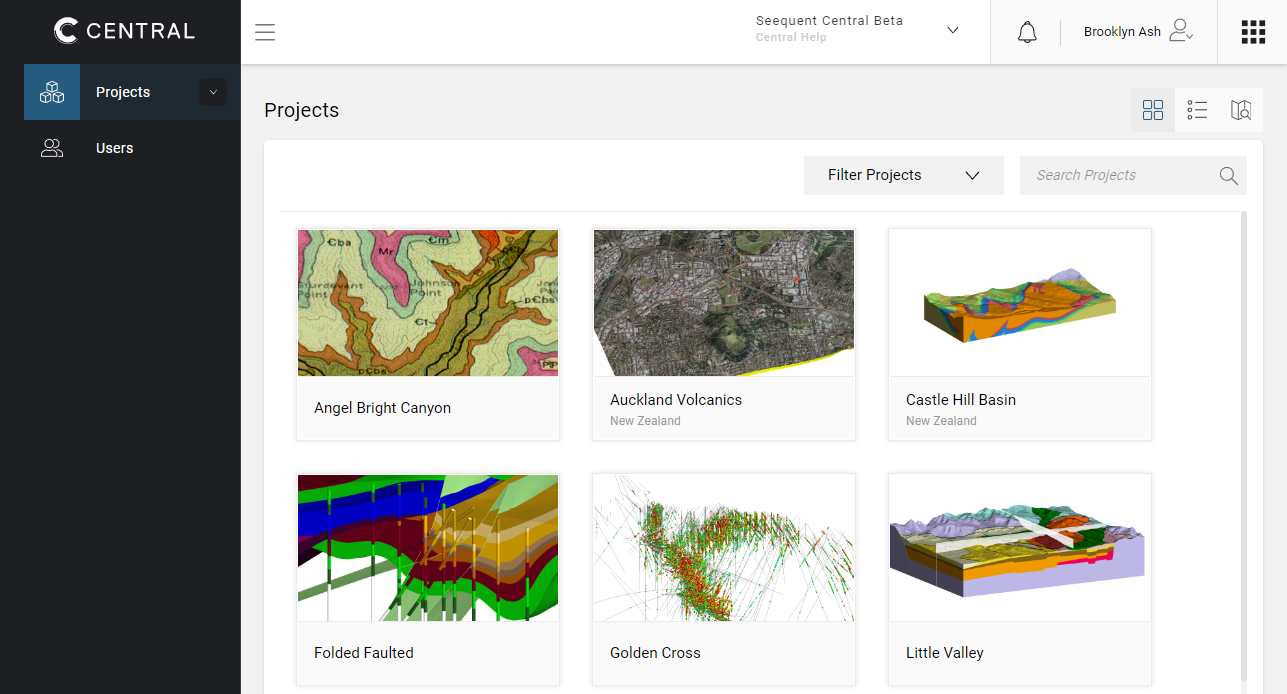 To find out more about working with the projects list, see:
Visualising Data and Collaborating With the Team
In the Central Portal, you can visualise project data in 3D, change how objects are displayed, draw slices, make measurements and discuss and share projects with others in your team. See:
Uploading Data to the Central Data Room
Each Central project has its own repository of data files related to that project, called the Data Room. Data in the Data Room can be organised by version, and data can be uploaded to and downloaded from the Data Room using the Central Portal.
See Storing and Accessing Data in the Project Data Room for information about accessing the Central Data Room from the Central Portal.
Learning and Troubleshooting Resources
The Seequent Learning Centre has resources that will help you get up and running with Seequent Central. Visit lms.seequentlearning.com and search for Seequent Central:

MySeequent contains troubleshooting resources for Seequent Central. Follow this link to search for the latest support articles for Seequent Central.
Got a question? Visit the Seequent forums or Seequent support
© 2023 Seequent, The Bentley Subsurface Company
Privacy | Terms of Use